Out run your insecurities
Running for just 10 minutes a day can significantly lower your risk of cardiovascular disease, makes you feel fitter and not only is a great way to lose weight but also brilliant to help with your mental health.
If you are new to running, you may feel that even a jog down to the bottom of the road is going to be one hard slog! Some say, the thought of panting like a dog, sweating like a Billy goat and looking as red as a tomato actually put them off this fantastic running journey. In fact, it's completely normal to feel self conscious about running but actually, you would be surprised that you are inspiring others by running.
If this is the case, run with a good friend who may be new to running like yourself. Running with your running buddy will keep your mind of any insecurities you may have plus it will be great fun.
Remind yourself of the great benefits that YOU are getting from running (the non runners are really missing out!).
Don't be put off or let lack of confidence get in the way of doing something you may have wanted to do for a while. The more you run, the more confident and less concerned you will feel.
You are taking bold steps to increase your fitness and wellbeing and that is something to be proud of to celebrate.
Something to try….
What is Worthing parkrun?
A free, fun, and friendly weekly 5k community event. Walk, jog, run, volunteer or spectate – it's up to you!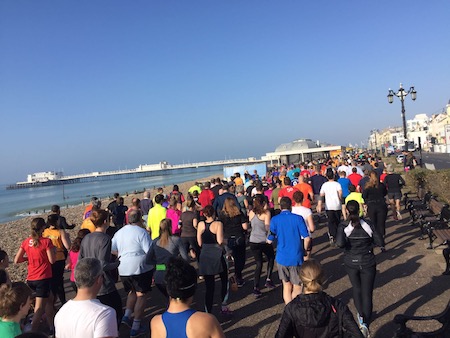 When is it?
Every Saturday at 9:00am.
Where is it?
The event takes place at Worthing promenade, Brighton Rd, Worthing, West Sussex BN11 2EN.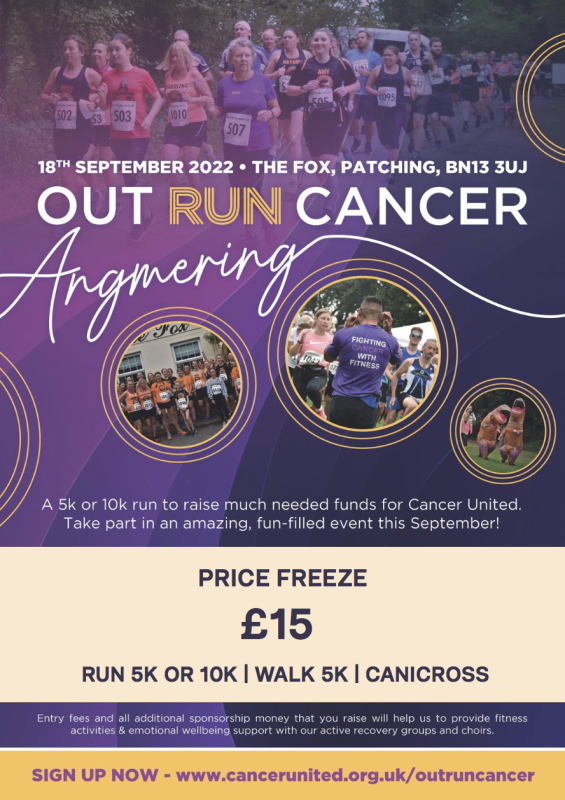 Take part – walk or run at 5 or 10k and raise some money
OutRunCancer is BACK! OutRunCancer is a bi-annual run raising much needed funds for Cancer United.
Our hugely successful OutRunCancer events is an amazing way to support our work by taking part in a fun-filled event.
Entry fees and all additional money that you raise will help us to provide fitness activities and emotional wellbeing support with our active recovery groups and choirs.
All finishing race participants will receive a medal.
Date: Sunday 18th September 2022
Where: The Fox, Patching, BN13 3UJ
Registration: 7.30am
Race Starts: 8.30am
Sign up