Why not hire the Amazon for a party?
You get exclusive use of the playroom and a party host who will look after you throughout your stay. We can provide the catering for you or you can self cater. For more details please go to the Children's Parties page.
Please note, the height restriction: 4'09" / 145 cm. Children must be accompanied by a parent or carer at all times.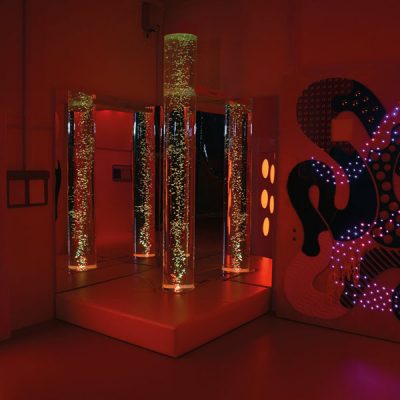 Sensory area
Sparkle cloud
A wonderful cloud shape that is suspended below ceilings, with 200 points of gently changing coloured lights, creating a galaxy of twinkling stars
Rainbow light bar
With 8 LED colour change lights, the Rainbow Light Bar creates a wonderful rainbow of coloured light.
Bubble tube
The lights cycle between the 8 bright colours, fading gently between them, whilst a constant stream of bubbles rise up through the water.
Compass Card Holder?
Get 10% off entry
(Only applicable during Sensory Area opening times (Monday – Friday) and Disability Sessions. Not available on regular Amazon sessions when the Sensory Area is shut. The discount is applied only to the child named on the Compass Card and is non-transferable).
Normal hours
Monday – Friday 9:30 – 17:00
Saturday & Sunday 9:00 – 12:00 & 14:00 – 16:00
(Weekend sessions maybe extended depending on Party Bookings between 12:00 – 14:00)
Sensory Area Opening times
Monday-Thursday 9:30 – 14:00 & 15:15 – 17:00
Friday 11:00 – 14:00 & 15:15 – 17:00
Saturday & Sunday 9:00 – 12:00 & 14:00 – 16:00
Amazon Adventure is FREE for Junior FIT4 members. 
**Amazon Adventure sessions are half price for non-walking babies
For more information please call Worthing Leisure Centre reception on 01903 905050.