What you need…
Clothing and footwear suitable for a walk or jog in park or woodland. Shorts are not generally recommended for orienteering but are probably satisfactory for the courses at Adur Rec. – A pen or a pencil to record the letters on the posts. – Optionally, a compass to help you keep the map facing the right way.
What to do…
The aim is to navigate around a route finding (in the given order) each of the control markers that are located on posts at the centre of the numbered circles on your map.
Control markers are red and white signs with a number and letter. The number confirms that you are at the place designated by that number on your list of controls.
A description of each post location is provided in the table.
The map legend…
The legend provides a description of each of the map symbols. Look at these carefully. On an orienteering map white represents trees that you can run beneath and orange represents open grassland. Green shading on the map represents undergrowth or denser trees (the darker, the denser!) which would make it harder to maintain your direction at a run. These vegetation distinctions can vary with the seasons.
The paths are shown as dashed black lines. The thicker lines are wider paths.
First steps…
An important skill is setting the map. This means turning the map until the symbols on the map line up with the corresponding features on the ground. This will help you to proceed in the right direction. Use the paths to navigate to the control markers – or if you feel brave, save time by cutting across open land or woodland.
Courses at Adur Recreation Ground
We have provided two courses here, a short and easy one for beginners and a longer more adventurous one for those with some experience. The beginners' course could be negotiated with wheelchairs or buggies in good weather.
Alternatively, you can print out a single map showing all the controls, and give yourself a time limit to find as many controls as you can in any order. (This is called a 'Score Event' in orienteering competitions.)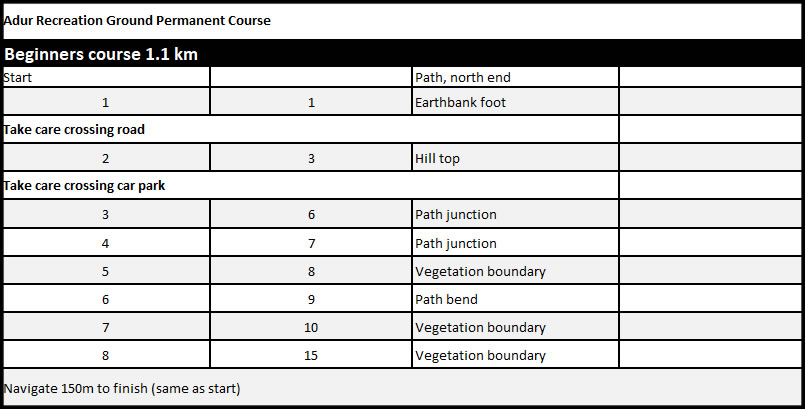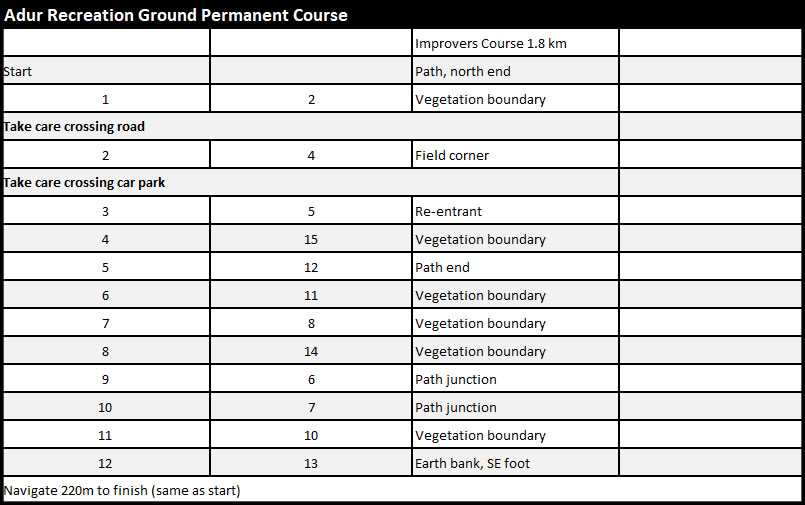 (Don't get confused: the left hand column shows you the order in which you visit the controls, and is the number you can see on the map. The second column shows the number you will find on the control itself, to confirm that you are at the right place. The empty right hand column is for you to write in the letter which you will find on the control to prove that you have visited it!)